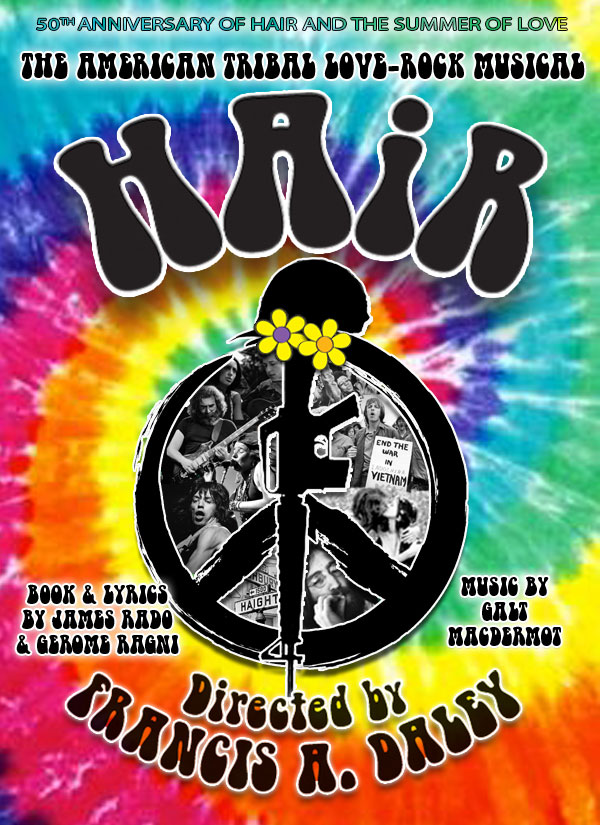 HAIR
June 30 – July 1, 7,8,9, 13,14,15, 21,22,23, 27,28,29, 2017
8:00 p.m. Thursday, Friday & Saturday
2:00 p.m. Sunday Matinee
Special 2:00 p.m. & 8:00 p.m. Saturday, July 29
Celebrating its 50th anniversary this year, HAIR, the American Tribal Love Rock Musical, made its world premiere in 1967. HAIR celebrates the sixties counterculture in all its barefoot, longhaired, bell-bottomed, beaded and fringed glory. To an infectiously energetic rock beat, the show wows audiences with songs like "Aquarius," "Good Morning, Starshine," "Hair," "I Got Life," and "Let the Sun Shine." Exploring ideas of identity, community, global responsibility and peace, HAIR remains relevant as ever as it examines what it means to be a young person in a changing world.
Directed by Directed by Francis A. Daley
Please note: the show contains adult themes and is recommended for mature audiences only.
Latest News
(07/14/17) Theater Review: Quite A Spectacle In Sherman's Presentation Of The American Tribal Love-Rock Musical By Elizabeth Young, The Newtown Bee
(07/13/17) "The American Tribal Love-Rock Musical - HAIR at The Sherman Playhouse" By Mary Hembree, Town Tribune
(07/05/17) "50 Years Later, It's Still A Must-See" By Bruce T. Paddock, Lakeville Jourmal
(06/21/17) The Sherman Playhouse Holds Auditions for Dark of the Moon July 10 - 11
(06/14/17) The Sherman Playhouse Opens the Rock Musical 'Hair' to Celebrate the Show's 50th Anniversary
Special Messages
The Sherman Playhouse is now accepting applications from directors and their production choices for the year 2018. Please download this application and send it along with a detailed theatrical resume to President, Robin Frome: Frome@snet.net. Application deadline is August 15, 2017. If you have further questions please email Mr. Frome at same email address.
American Playwright Readings
Sunday, August 13th at 2:00pm – A Delicate Balance
Sunday, August 27th at 2:00pm – TBA