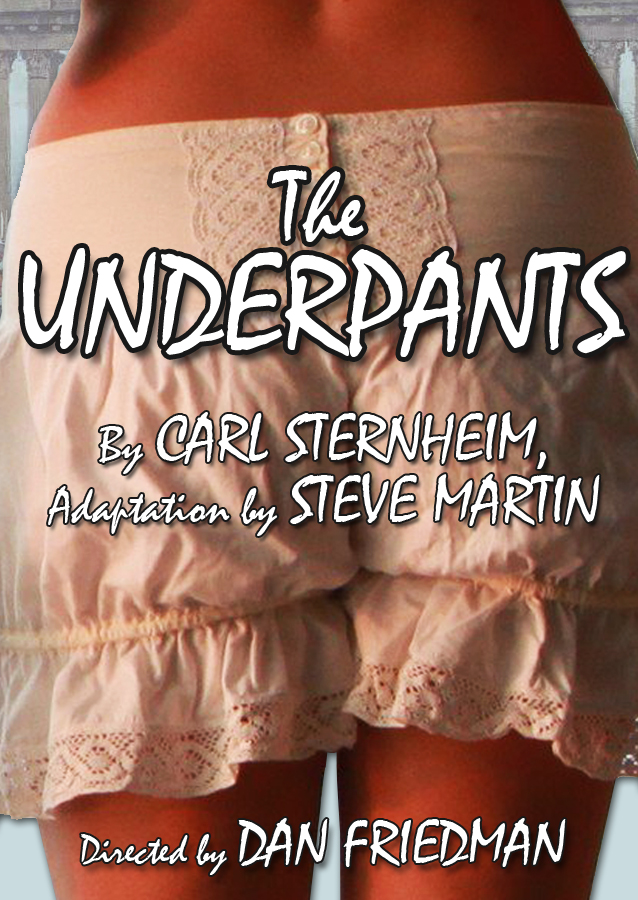 The Underpants
By Carl Sternheim, Adaptation by Steve Martin
Directed by Dan Friedman
September 21, 22, 28, 29, 30, October 5, 6, 7, 12, 13, 2018
8:00 p.m. Friday & Saturday
2:00 p.m. Sunday Matinee

Louise and Theo Maske are a couple whose conservative existence is shattered when Louise's bloomers fall down in public. Though she pulls them up quickly, he thinks the incident will cost him his job as a government clerk. Louise's momentary display does not result in the feared scandal but it does attract two infatuated men, each of whom wants to rent the spare room in the Maske's home. Oblivious of their amorous objectives, Theo splits the room between them, happy to collect rent from both the foppish poet and the whiny hypochondriac.

Casting Call
Jean Shepherd's - A Christmas Story
Monday & Tuesday, September 24th & 25th from 7:00pm - 10:00pm (Seeking 2 men, 2 women, 5 boys, 2 girls)
Video Interview


Follow Us On Facebook
The Sherman Playhouse will be holding auditions for Jean Sheperd's A CHRISTMAS STORY September 24 & 25 (7-10 PM) at the Sherman Playhouse 5 Route 39 North in Sherman, CT.

Humorist Jean Sheperd's memoir of growing up in the midwest of the 1940s follows young Ralphie Parker in his quest to get a genuine Red Ryder BB gun under the tree for Christmas. Ralphie pleads his case before his mother, his teacher, and even Santa Claus himself. The consistent response: "You'll shoot your eye out." All the elements from the beloved motion picture are here, including the family's temperamental exploding furnace; Scut Farkas, the school bully; the boy's experiment with a wet tongue on a cold lamppost; the Little Orphan Annie decoder pin; Ralphie's father winning a lamp shaped like a woman's leg in a net stocking; Ralphie's fantasy scenarios and more!

The cast calls for 2 Men and 2 Women ages 20-50 and 5 boys and 2 girls ages 9 to 12. Actors are encouraged to bring headshots and resumes. Sides will be provided at auditions. The rehearsals will start the week of October 8. No prepared monologues are necessary. Actors will read from the script in groups or individually on a first come first serve basis. For more information please call the director, Keli Solomon at 860-354-9550. For more information about the Playhouse please go to our website at The Sherman Playhouse Live Performing Arts Theatre in Sherman Connecticut ... See moreSee less
Kelly, this is so exciting!! What fun!!
Load more