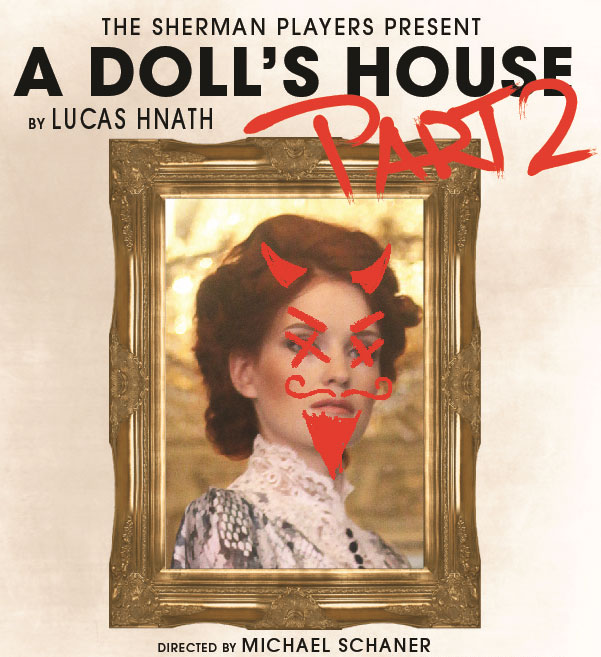 Auditions
A Doll's House Part 2

Wednesday, June 30th & Thursday July 1st from 7-9pm.
No appointments necessary. Callbacks as will be held if required.

The Sherman Players are seeking a non-equity cast for their upcoming production of Lucas Hnath's Tony Award Winning play, 'A Doll's House, Part 2'. The production runs Sept.17th – Oct. 9th, 2021.
[click here for more information]
Durang Outdoors – Tickets now on sale
July 9, 10, 16 & 17 – The Sherman Playhouse Outdoor Stage
Our 2021 season kicks off on our outdoor stage (located on the grounds of the Sherman Playhouse) with 'Durang Outdoors'.
Join us as we present an evening of Christopher Durang one acts under the stars - 'The Actor's Nightmare' directed by Jessica Smith and 'For Whom The Southern Belle Tolls' directed by Matt Austin. 
Featuring: Jody Bayer, Priscilla Squiers, Bruce Tredwell, Jim Hipp, Matt Austin and Heather Haneman. Producer: Matt Austin.  Technical Director: Al Chiappetta.
Grounds open about an hour before show time. Don't forget to bring your chairs and a picnic. 
Refreshments will be on sale before the show and during intermission.
In 'The Actors Nightmare' an accountant named George finds himself mysteriously backstage in a theater being told he must replace one of the actors immediately. No one is sure of what play is being performed but George (costumed as Hamlet) seems to find himself in the middle of a scene from Private Lives, surrounded by such luminaries as Sarah Siddons, Dame Ellen Terry and Henry Irving. As he fumbles through one missed cue after another the other actors shift to Hamlet, then a play by Samuel Beckett, and then a climactic scene from what might well be A Man for All Seasons — by which time the disconcerted George has lost all sense of contact with his fellow performers. 'The Actor's Nightmare' takes on the age old fear of not being prepared in a way only a master satirist like Durang can
'For Whom The Southern Belle Tolls' is Durang's absurd take on The Glass Menagerie. In this parody, the fading Southern belle, Amanda, tries to prepare her hyper-sensitive, hypochondriacal son, Lawrence, for 'the feminine caller.' Terrified of people, Lawrence plays with his collection of glass cocktail stirrers. Ginny, the feminine caller, is hard of hearing and overbearingly friendly. Brother Tom wants to go the movies, where he keeps meeting sailors who need to be put up in his room. Amanda tries to face everything with 'charm and vivacity,' but sometimes she just wants to hit somebody.
This is a limited run of four performances so get your tickets before they sell out!
Betsy Scholze – A Lifetime of Service Recognized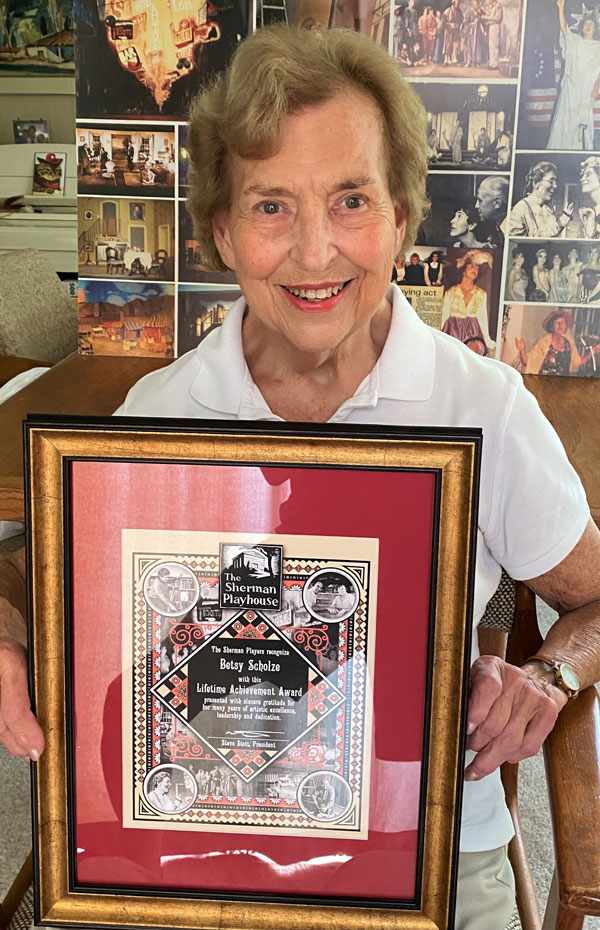 The Sherman Players have been around for nearly a century and that longevity is all down to the people involved in running the organization and keeping the Sherman Playhouse a relevant part of the community.
This is especially true of Betsy Scholze, who for nearly 60 years has been an active member of the Players.
At this year's Annual General Meeting the Board of Directors chose to honor Betsy with a Lifetime Recognition Award, for the service, creativity and leadership she has shown over these many years.
Betsy's connection to the Players and the Playhouse goes back much further than these 60 years, however.  It was her Grandparents, Alice and Walter Evans, who established the theatre in Sherman!
After a period of time in the Midwest Betsy returned to her hometown of Sherman in 1962 and immediately threw herself into theatrical pursuits.  A gifted artist, she began with set painting and in her time there isn't a job she hasn't done for the theatre – actor, technician, backstage, board member, long serving treasurer, a number of stints as President, and many, many more.  She met the love of her life, husband Fred, at the Playhouse where he was directing a play, and her children have all trodden the boards at one time or another.
Even now she shows no signs of slowing down – during the COVID restrictions she could be found repainting the Playhouse lobby, box-office and backstage stairs.  She remains an active member of the Players' Board of Directors.
In addition to the Lifetime Recognition award, the Board has also named Betsy as their Honorary Patron – a title that acknowledges the history of her family's close ties to the Sherman Players and The Sherman Playhouse. 
Steve Stott, current President, says of Betsy "She quite simply is THE key member of the Sherman Players.  No one has had a greater impact on, or contributed more to our success.  I know I speak for a succession of Presidents when I say how grateful I am for her help and counsel.  There's no substitute for Betsy's experience and wisdom.  Her love for the Playhouse is evident in the energy she puts into our activities - and long may that continue!"
 Thank you Betsy!